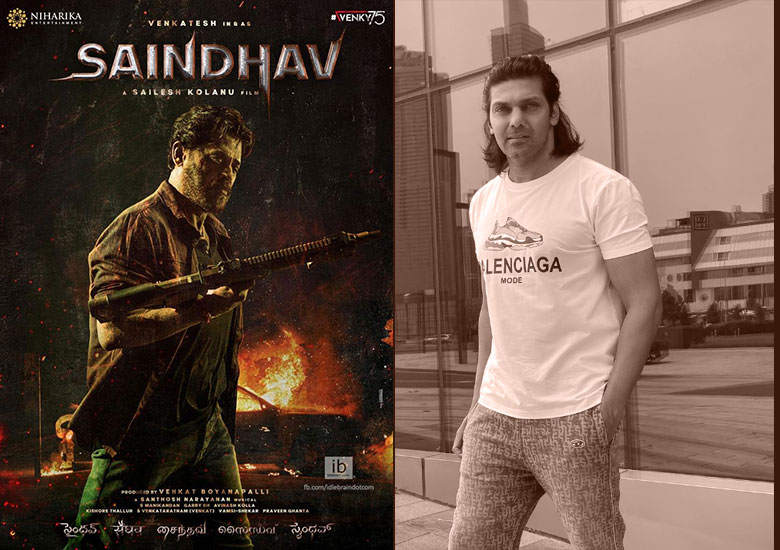 The excitement about the upcoming action movie "Saindhav," starring Venkatesh, has been all good. They can't wait to see what "HIT" director Sailesh Kolanu has in store for them, especially since A-list actors keep signing on for this pan-Indian movie. In Venkatesh's record-breaking 75th film, Shraddha Srinath will play Manognya, Ruhani Sharma will play Dr. Renu, Andrea will play Jasmine, and Nawazuddin Siddiqui will play Vikas Malik.
According to the most recent gossip, an additional crazy actor will soon be joining the cast, and in anticipation of this, the filmmakers have prepared character posters. The Tamil actor Arya is said to have been cast in a significant role, according to the sources.Arya has made an appearance in a variety of Telugu- dubbed Tamil films, some of which are "Raja Rani" and "Nene Ambani."  Allu Arjun played  the role of the antagonist in the movie "Varudu," but in the movie "Size Zero," he played the role of the male protagonist.
The audience is very excited about this film, despite the fact that there has been no official word on its release. In  addition to that, this movie will contain a capable technical staff. Santosh Narayanan is responsible for the composition of the audio, while S. Manikandan is the cinematographer. Garry Harrison is in charge of editing, while Avinash Kolla is the one in charge of production design.
Kishore Thallur is the second producer in this Movie.  The filmmakers will soon announce the identities of the remaining cast members in the ensemble. On December 22, the pan-Indian film Saindhav will be released in Hindi as well as in other southern languages. This will allow the film to be seen in time for Christmas.